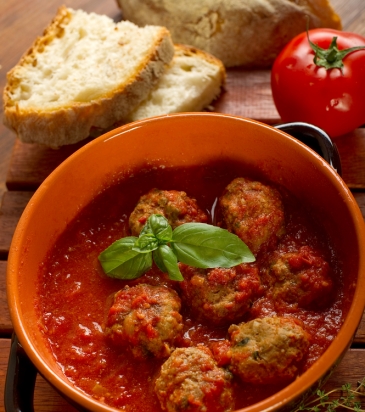 MATERIALS
For the meatballs
70g. olive oil
150g. onion, chopped
70g. red pepper, chopped
15g. garlic, chopped
20g. ginger, chopped
350 gr. Ground Beef
350 gr. minced pork
120 gr. sliced ​​bread without crust, grated
50g. Parmesan, grated
5 g. basil, chopped
2 eggs
10g. salt
flour for frying
sunflower oil for frying
400 gr. Ketchup
EXECUTION
For the meatballs
Heat a skillet over medium heat, add the olive oil and sweat the onion and pepper until softened well. Add garlic and ginger and sweat and this for two minutes. Remove the mixture from heat and let cool thoroughly. Mix the mixture of onion and ginger with the remaining ingredients, add salt and knead well. Taste, baking a little bit in the pan and fix the taste accordingly.
Shape the meatballs in size weighing 40 g. each. Heat a skillet over medium-high heat, add the sunflower oil, flour and fry the meatballs.
Remove them from the pan and pat dry on absorbent paper.
Add the meatballs to the tomato sauce and simmer for 5 minutes.

_________________

Put a Bible/Quran in the wind and rain, it will perish...my book is the wind and the rain.